Iraan-Sheffield ISD Ag Barn nears completion thanks to $40,000 donation from XTO Energy
The rebuilding of Iraan-Sheffield ISD's new Ag Barn is nearly complete, thanks in part to a $40,000 donation from XTO Energy.
In April 2015, high winds knocked down a power line that fell on the school district's Ag barn, causing a large fire that destroyed the barn and supplies used for the district's FFA program.
"The fire was a huge blow to the most popular technical program in our school district," says Kevin Allen, superintendent for Iraan-Sheffield Independent School District. "No matter where a student lives, they can participate in this program because the barn provides them with a place to keep and care for their animals."
XTO Energy donated $40,000 to help the district rebuild the barn and purchase supplies for the district's FFA program that were also lost in the fire, such as livestock scales, clippers and blades, anesthesia and sonogram machines, show equipment, feed and water troughs, and much more.
"The generous gift from XTO Energy directly benefits the youth in this community by helping them learn about agriculture, hard work, community service, leadership, and other life skills that will help them develop into thriving young adults," said Patina Crowder, treasurer, Pecos River 4-H.
XTO Energy's Permian Division Vice President Tim Friesenhahn stated, "Our employees deeply care about the Iraan community, and we are proud to help the school district rebuild a program that has such positive impact in our future Ag leaders of America."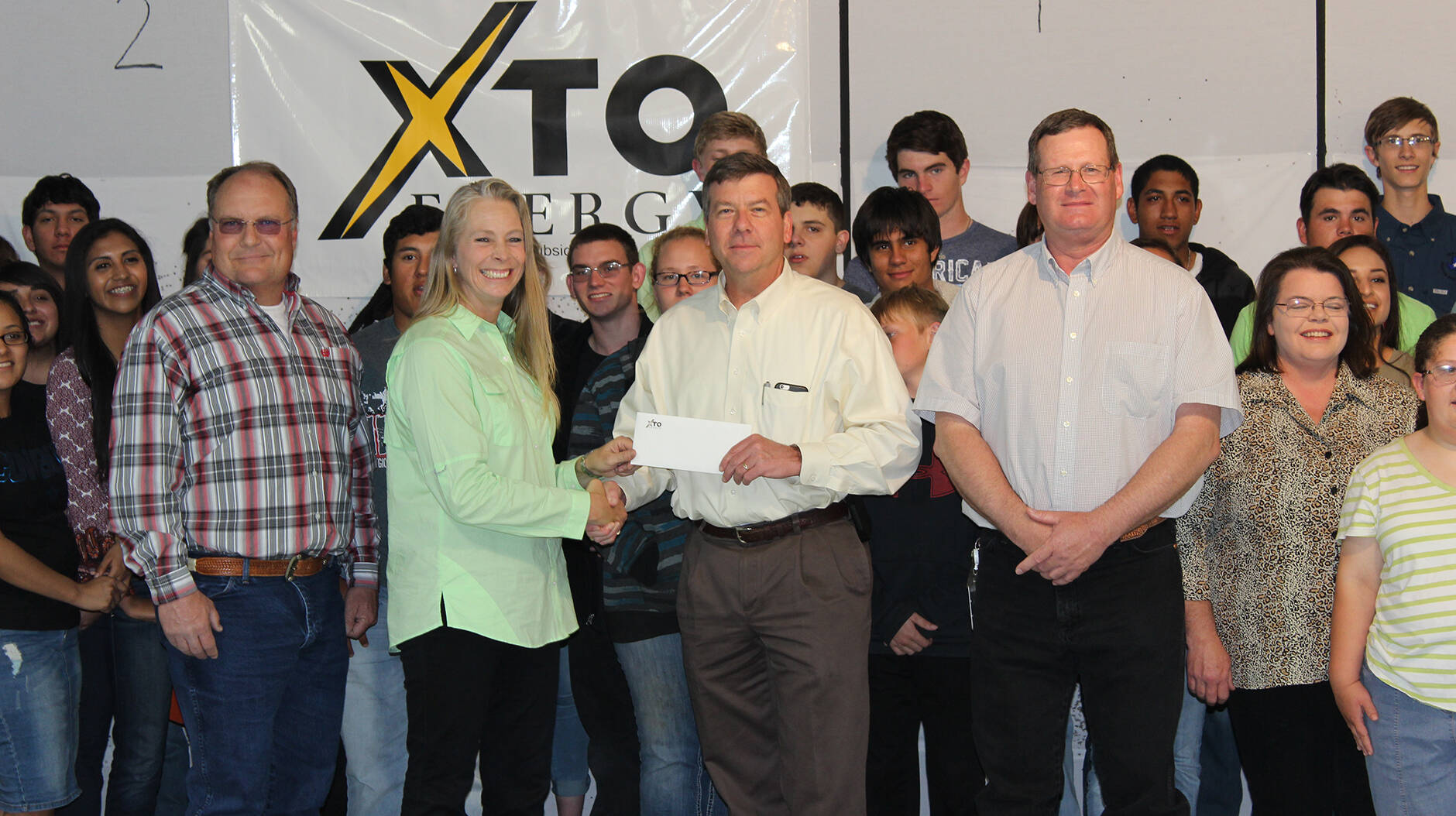 XTO, a subsidiary of ExxonMobil, is a leading natural gas and oil producer in the U.S. with expertise in developing tight gas, shale gas, coal bed methane and unconventional oil resources. XTO has operations in all major U.S. producing regions, and holds more than 11 million acres. In the Permian Basin, XTO holds 1.5 million net acres of production and employs nearly 400 people.
About Iraan-Sheffield ISD
Iraan-Sheffield ISD consists of Iraan High School, Iraan Junior High School and Iraan Elementary School. Iraan-Sheffield ISD strives to be an exemplary educational community dedicated to equipping students with unlimited opportunities, and provides a learning environment that is innovative and personally rigorous that will produce graduates who are effective communicators, problem solvers, and responsible patriotic citizens that reflect the community's standards.