Dinosaur fossil discovery
Exploration operations targeting unconventional gas in western Argentina took an interesting turn when road construction led to the discovery of dinosaur fossils and the start of a paleontological mission to further explore and preserve the findings.
The fossils are from a herd of Titanosaurus Sauropods from the Late Cretaceous period, which ended more than 60 million years ago and marked the end of dinosaurs on earth. Also discovered was a cranium from a Teropoudus, which was a carnivore and one of only two Terapoudus found in this area in the past 100 years. The Titanosaurus Sauropod was one of the heaviest creatures to ever exist, weighing as much as 400,000 pounds while standing as high as 25 feet tall and 65 feet long.
"ExxonMobil has diverted our operations to ensure the integrity of the dig site and has funded the first phase of paleontological work, providing materials and services to a team of four paleontologists, two assistants and one photographer," says ExxonMobil Argentina Public & Government Affairs Manager Tomas Hess. "Currently, the team is finishing its cleaning of the fossils and comparing the results to other fossils at the museum in Rincon de los Sauces as well as other nearby museums."
The project caught the attention of the local community, including a visit by Neuquén province Governor Jorge Sapag. News reports also picked up the story, citing the governor's visit as well as ExxonMobil's contributions to the region.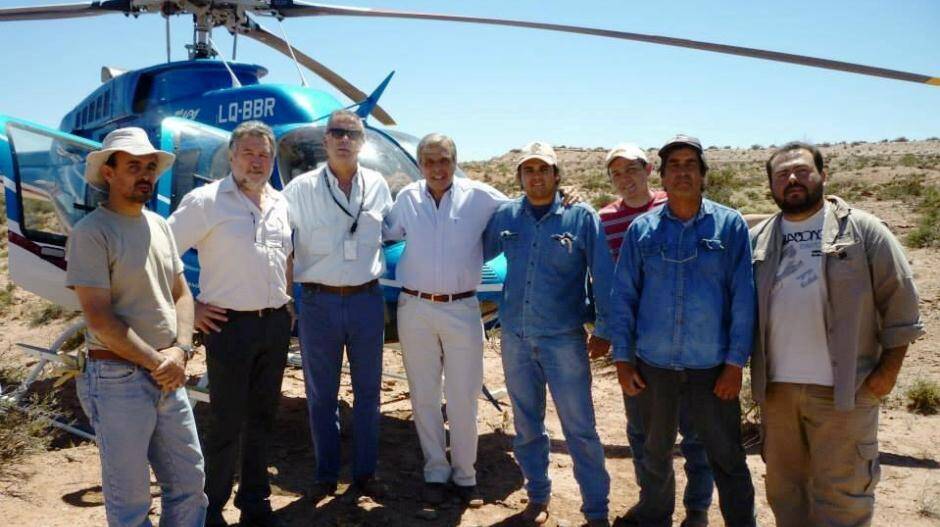 Next steps
The second phase of the project begins in late March and will expand the excavation area, which is in the Bajo del Choique and La Invernada blocks of the Vaca Muerta shale formation, a region rich with dinosaur discoveries.
The third phase includes:
assembling the dinosaur with the recovered pieces,
constructing replicas,
developing technical materials and information for students as well as an exhibition for local museums.
The results from the finds of the first two phases will also be presented at the Argentina Paleontological Symposium in Neuquén in May.
ExxonMobil Exploration Argentina holds interests in approximately 900,000 net acres in the unconventional play of the Vaca Muerta in Neuquén Province.
The findings during the two excavations have been extraordinary. We found two samples of the Theropod species, a completely articulated Titanosaur, including the cranium, and various fossils of freshwater turtles, fish and dinosaur eggs. These results demonstrate the richness of this region that will allow further studies and understanding of the formation. We want to thank ExxonMobil for their continuous support and contribution to the preservation of the area.